We're co-hosting the biggest fan party again this year, rebranded to suit it's size: Con Before the Storm! And lots of other cool people are involved: World of Podcasts, d20crit, OpenRaid, ZergID, J!NX, and more! The party is organized by fans & fansites, for fans. If you like Blizzard related activities, keep reading. It will be worth your time, promise!
Thursday, November 5 from 6:00 PM to 11:00 PM PST At the Hilton, 777 W Convention Way (Be sure to sign up, the more accurate the head count, the better we can schedule the right number of bartenders!)
Fan Art Exhibit: All art will be given away as prizes at the end of the night!
WHAT?! Yeah, that's right. Mr. Robot, Audra and I have been curating the art and contacting artists for the past several months, and over 100 artists have donated about 200 pieces of art. And just like last year, at the end of the night, it's all going to be given away… for free!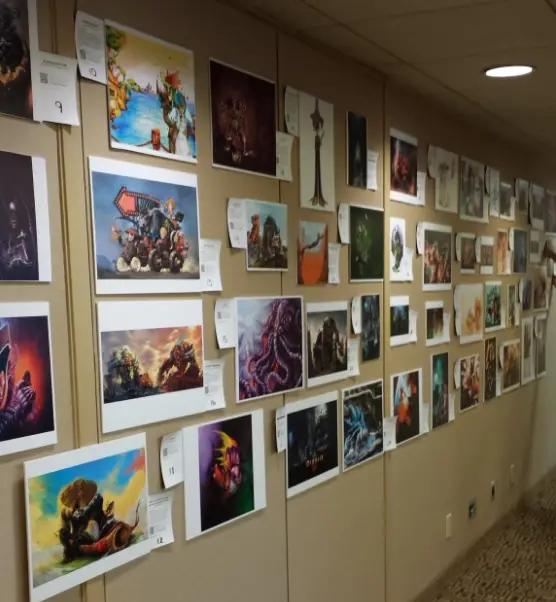 One thing we learned last year: while we had almost 200 pieces of art to giveaway, we didn't have enough for everyone who wanted cool art. This year, three of the artists agreed to let us print their art on posters and give them to you at cost. The two batches sold out and we have one more batch with a limited number remaining for pre-order. You can sign up for that on Eventbrite and pick it up at the party (they will not be shipped).
 Green-Screen Photo Booth!
Take your photo in front of the greenscreen and choose your background. This year, we have the warglaives and other props to pose with, thanks to @Serephita!
This year, photos can be shared on social media right away, and the area is big enough for fun group photos.
Games in "The Tavern"
We have Blizzard themed trivia and other games going on all night. Our "Trolls Against Gnomanity" (a Blizzard-themed Cards Against Humanity) game made just for this party will make a cameo too. We even have a real-life Hearthstone board and cards for some epic matches. And of course, some pretty cool prizes for winners. Time to study up on your Blizzard trivia.
Live shows & panelists
The World of Podcast folks have lined up a bunch of live shows and entertainment, including a segment from Scott Johnson (The Instance Podcast). We also have "The Forum," which features panels and presentations across two different rooms. One of the panels features a behind-the-scenes look at cosplaying with Cosplay Py (first place winner in 2014), Avery Faeth (first place winner in 2011),  Inquisitor Aura and the Treasure Goblin. Yes, they will have costumes to show off and talk about! Alex Ziebart (you know, one of the founders of Blizzard Watch), will be on a panel to give an insider's look into running a fansite. Bay from Final Boss TV will be a special host for the late-night segments. And there's even a presentation about beer from the BlizzCon Beer Swap group!
Meet, greet, and get autographs
So many of these fan-favorite personalities are just excited to meet fans, people like you! So one of my favorite people, Darrie from OpenRaid (and ZergID), has organized the "Tap Room." Drop in to fanboy or fangirl at your favorite people, or bring something for them to sign at the autograph table (like our $11 poster bundle, more on that later). I hear a few people have been brushing up on their autograph skills, like some of the Blizzard Watch writers, and Mr. Robot (who's working on his binary signature!).
We'll be at the Curse party Friday night too, at the Hilton. Drinks and swag bags! And if you find us at the party in our Mr. Robot shirts, we might have a few gifts to hand out too 🙂